Plocamopherus cf lemur Vallès & Gosliner, 2006
These specimens are similar to but do not exactly match the Plocamopherus lemur figured in Gosliner et al (2008). Four specimens have been found so far, all living in clumps of Halimeda algae on shallow sandy lagoon reefs at Kwajalein. The first two specimens measured 23and 17mm, and were found on 1 April and 13 May 2007. The second individual was found in the same general area and habitat as numerous specimens of Plocamopherus pecoso. Two additional specimens measuring 25 and 27mm were found in Halimeda at night on 5 July 2008.
As the pictures show, this animal differs from Plocamopherus pecoso in its mostly orange brown coloration with what is almost a network of white. The balls on the dorso-lateral processes are white instead of purplish-brown, and the balls seem to be present only on the pair of processes posterior to the gills. In the original P. lemur, described and currently known only from Madagascar, the balls are brown. Although it is not easy to see in the photographs, the sides of the foot are decorated with both orange spots and also rather widely spaced brown spots.
This animal swims by laterally bending the body.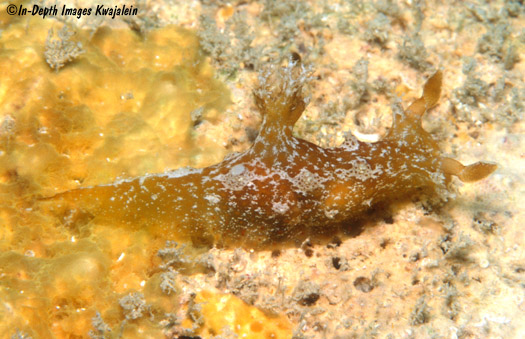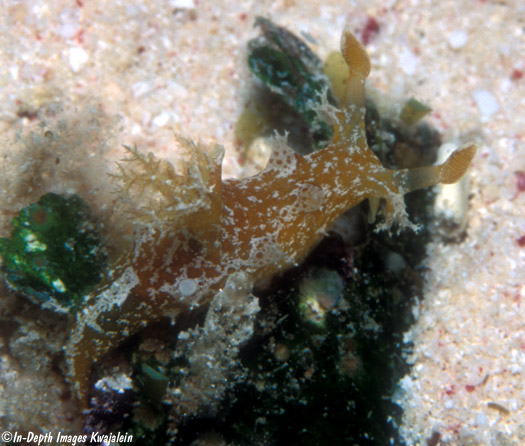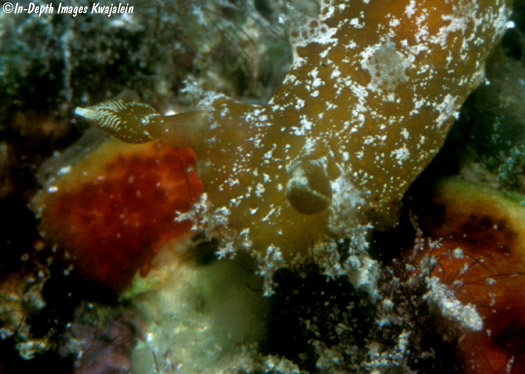 Created 3 January 2007
Updated 21 February 2009
Return to phanerobranch thumbnails