Oxynoe viridis
(Pease, 1861)
Oxynoe viridis has been found in the Marshalls at Rongelap and Kwajalein Atolls. The Rongelap specimen was under a rock on a shallow lagoon reef, while several specimens from Kwajalein were living in a Caulerpa and Halimeda algae patch on a lagoon slope. They have been found on and apparently eating several different species of Caulerpa.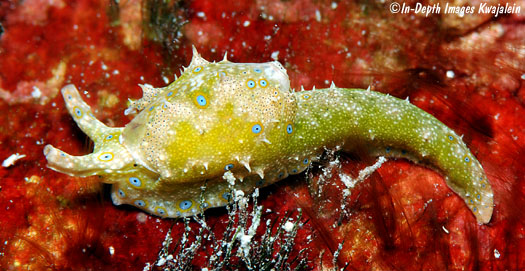 Mostly we have seen these rarely, one or two animals at a time. On 24 November 2008 and again on 1 December 2008, however, more than 20 individuals of varying sizes were observed in a patch of filamentous green algae within which ran strands of Caulerpa taxifolia. Several specimens were observed distinctly eating the Caulerpa. The algae patch was on a Kwajalein Atoll lagoon sandy flat at a depth of about 9m.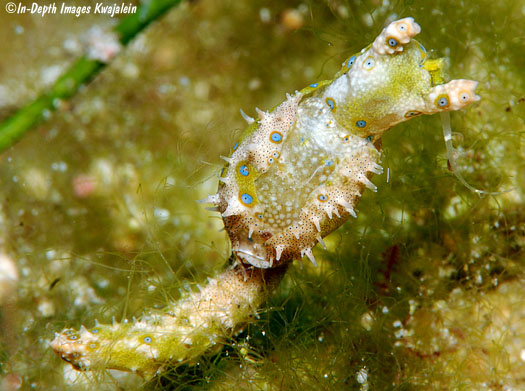 There is an egg mass on the Caulerpa algae that these Oxynoe were eating. We're not sure if these were the eggs of the Oxynoe or one of the other opisthobranchs we saw in the area.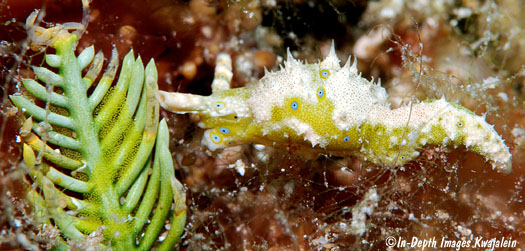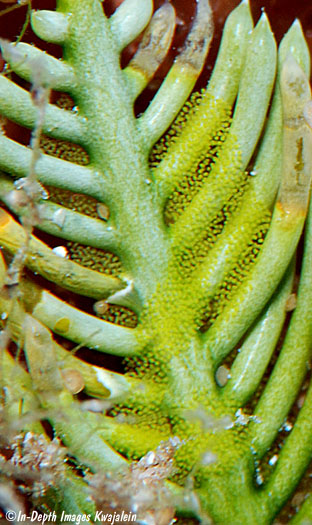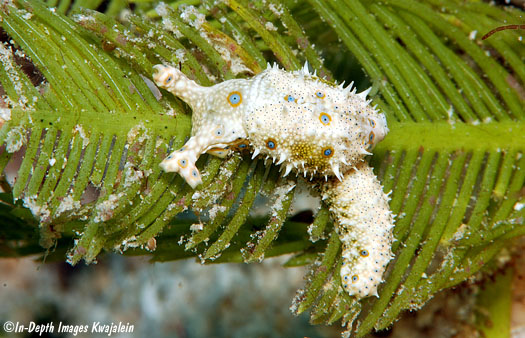 The photo below shows the single Rongelap Atoll specimen.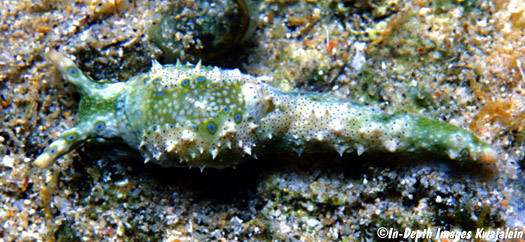 The three following shots show animals on different species of Caulerpa.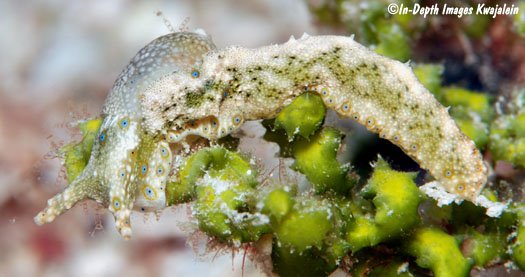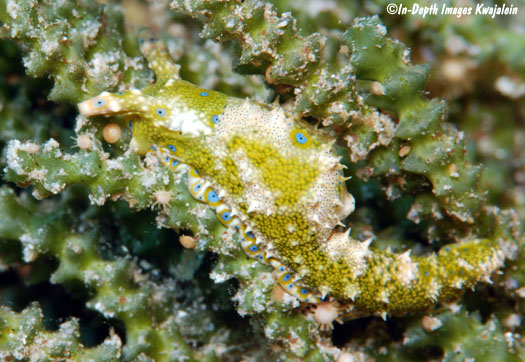 The specimen in the two shots right below was found on 7 September 2008.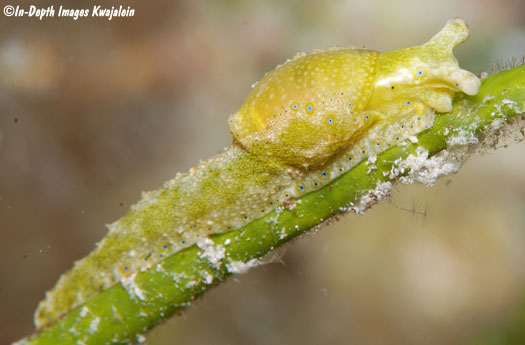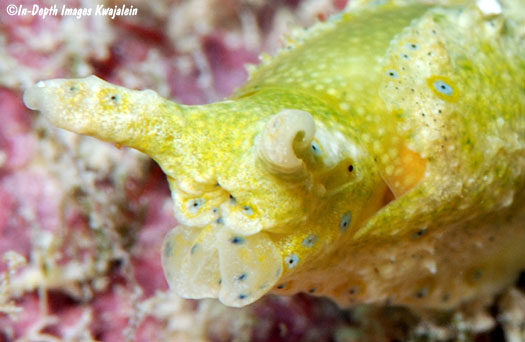 The very small individual below was photographed on 31 August 2008.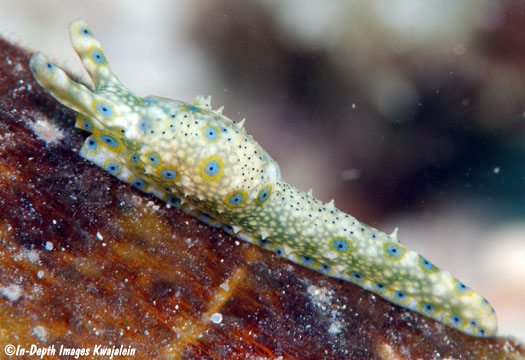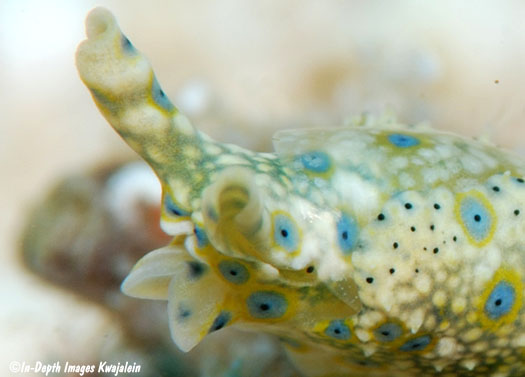 These animals are so attractive it is impossible to decide which photos to use. Here are a few more from the large group observed on 1 December 2008. The first one below shows the animal pulled back a bit from the thin transparent shell.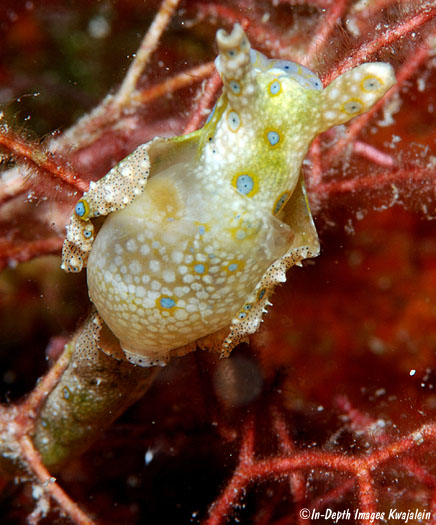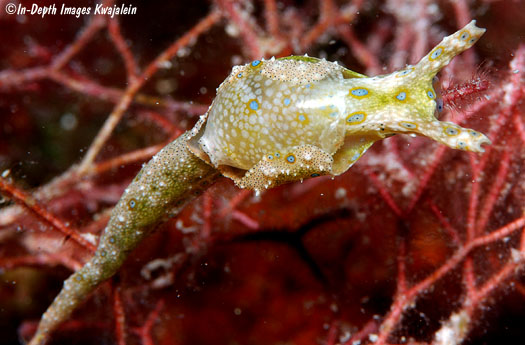 This shot shows the spire on the left side of the shell.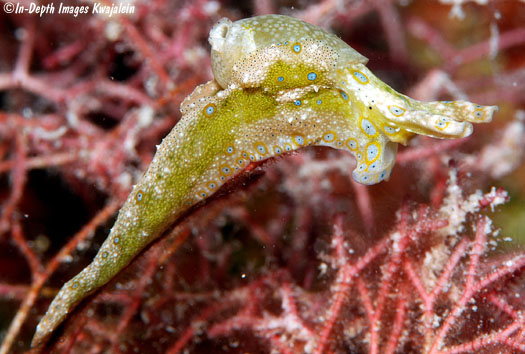 A healthy population of these has been observed by Christina Sylvester feeding on Caulerpa on a shallow reef on the lagoon side if Kwajalein Island. The specimen in the three photos below, however, was on Caulerpa at Kwadak Island.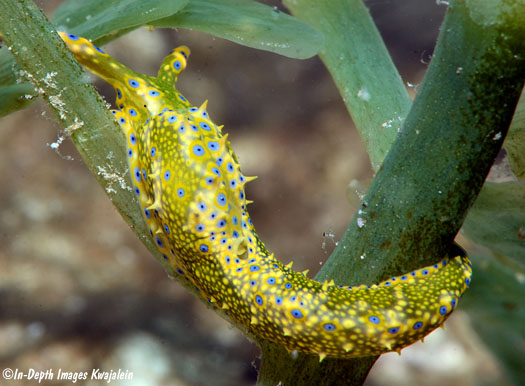 The one below appears to have its mouth parts extended to graze on the Caulerpa algae.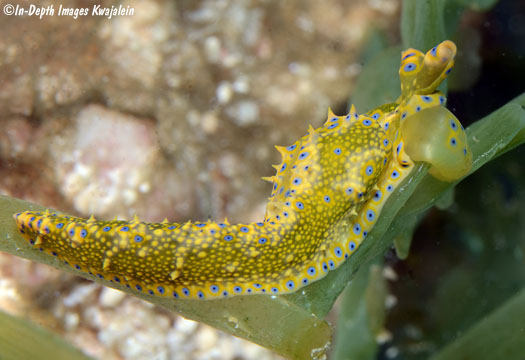 Created 7 February 2007
Updated 12 December 2015
Return to sacoglossan thumbnails